When Taste the Cracklin caters your private party or corporate function, it's with dedication and professionalism that our long-term customers have become accustomed to. We've spent many years providing various services, both locally and further afield, and our catering services come complete with tasty, fresh, wholesome food and team members who clearly love what they do. Our chefs are highly trained and experienced and will always go the extra mile to help ensure that your party or event is a great success, and not only with cooking our amazing hog roasts that we're famous for. We also provide so much more, including additional and alternative options that mean all of your invited guests will be able to enjoy our food.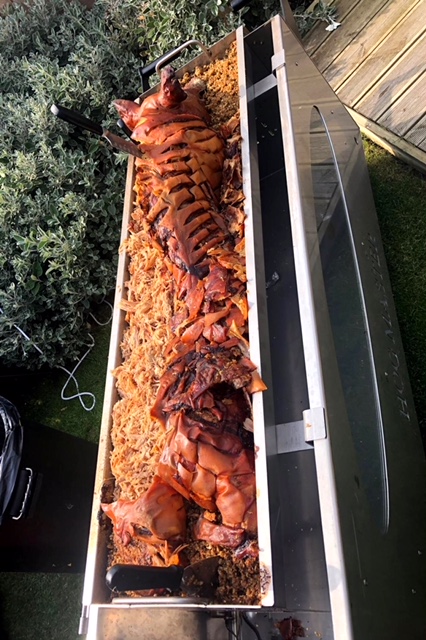 Taste The Cracklin recently catered a birthday party for Diane, who was turning 60 and wanted to celebrate with friends and family, and wanted to feature a menu that would be enjoyed by both meat eaters and vegetarians. We have all kinds of menus to suit both, so if you prefer us to cook a spit-roasted meat or even a barbecue instead, we can easily do that too. However, for this special occasion, Diane asked us to cook a hog roast in her back garden for the carnivores, in order to make delicious pigs in buns. 
When it comes to vegetarians, we have plenty to choose from and our chefs can whip up a suitable dish such as stuffed mushrooms or peppers, a quiche or burgers, but our most popular choice is our veggie skewers. Diane agreed that they would be the perfect choice for her veggie guests, as they have fresh chunks of halloumi, tomatoes, mushrooms, red onion, mixed peppers and courgette and are served with pitta bread and our Tzatziki dip.
On the day of Diane's birthday party, our Taste the Cracklin chef prepared and then cooked an amazing traditional hog roast centrepiece for hours on end and once the crackling and meat chunks had been carved, they were piled into soft bread rolls and wraps and topped off with apple sauce and stuffing (both our own recipe). The skewers were grilled to perfection and served at the same time, and by the end of the evening, both dishes had been completely devoured.