Taste the Cracklin makes a mean hog roast and we often cook amazing spit-roasted meats too, like chicken, turkey, lamb and beef. We use fresh, local ingredients to make delicious homemade dishes, and though we are famed for our fantastic hog and spit roasts, we can actually make so much more for you and your guests if needed too.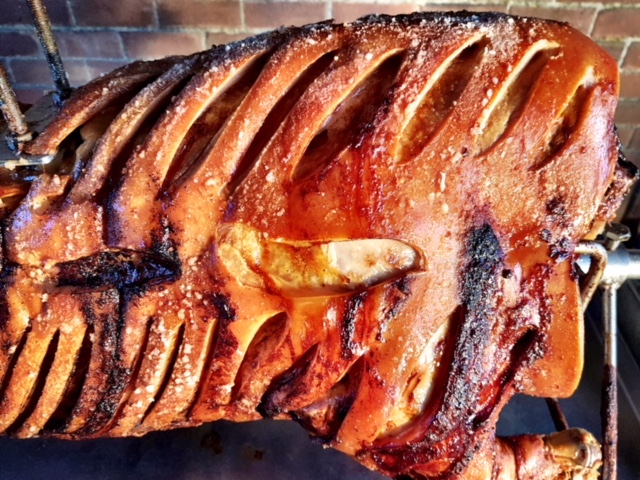 When it comes to catering any kind of party or event, we're the number one choice both locally and further afield, and that's partly because of the variety and choice that we provide for both personal tastes and dietary needs. You may want us to cook a sumptuous centrepiece hog roast but also make a vegetarian, vegan or gluten-free alternative or perhaps you'd like a barbecue of burgers, sausage and ribs as your main instead. You might prefer several courses served on your special occasion or for us to create handmade canapés to serve together with drinks. Whatever your needs, we have you and your customers in mind each and every time, because we believe that everyone should be able to enjoy our lovely food.
Our Taste the Cracklin chef and team members recently catered Suzanne's birthday party, where we were asked to cook a traditional hog roast in order to make pigs in buns for her forty-five guests and to provide a veggie option too. Our most popular vegetarian choice is undoubtedly our veggie skewers, with chunks of halloumi and fresh vegetables all grilled and served in pitta bread, together with our Tzatziki dip. We have plenty of other options available if preferred, but for Suzanne's party, we provided these tasty treats for two of the guests.
On the day of the birthday celebration, Taste the Cracklin arrived at Suzanne's home in the early afternoon and set up our equipment in the garden. The first order of the day was preparing the meat to be roasted, and then it was sizzling away for a few hours. Later on in the day, we prepared and grilled the skewers and prepared all the pigs in buns ingredients and by 6pm, it was time to serve Suzanne and her hungry guests.