It isn't every day your only daughter turns 16, so her parents Martin and Lorraine felt a party was a must, and since their daughter Juliet had been obsessed with a certain teenage wizard since the age of 8, the theme of the party more or less chose itself! But with 14 wannabe Wizards and 12 Muggles (i.e. the mums and dads!), to please, they were initially struggling to find a caterer who could provide a varied enough menu to suit all age groups. That was until they called Taste the Cracklin and we showed them our barbeque style party menu! Full of flavour, colour and variety, it is the perfect choice to feed a mixed crowd and it is always a popular choice for birthday parties. Martin and Lorraine were thrilled with the fact that there was so much choice and something for everyone's tastes. They opted for pulled pork, infused with our secret marinade and served with a selection of optional fiery sauces for the grown- ups, along with sticky pork ribs and corn cobettes for the teenagers. With both Wizards and Muggles taken care of in the food department, all Mark and Lorraine had to worry about was keeping an eye on 14 teenagers as they ran around the garden with magic wands trying to cast spells on their mums and dads!
The Taste the Cracklin team didn't have to wave any magic wands to create Juliet's fabulous birthday feast, as our success is the result of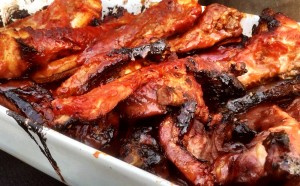 skilled chefs and years of catering experience! The garden was a hive of noise, activity and pointy hats but we went about our business in our usual calm and competent way, ensuring everyone was served with what they wanted from the wide selection on offer. With their hands already full enough, Juliet's were very relieved that they didn't have to worry about the catering and they thanked us for making the wizard-themed party extra special for their daughter.  And with us doing all of the clearing up too, there was even time for them to have a game of Quidditch afterwards!