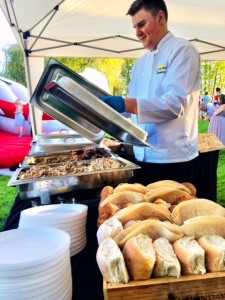 A spring fate was taking place on the green in a little village. We at Taste The Cracklin were asked to come along to do a Hog Roast for the fate. We  were  looking  forward to doing this country fate because the setting was so beautiful. It was an olde worlde little village with a little duck pond in the middle of the  village green.  It was a scene from years by but a place that was very popular with tourists and walkers.
The fate had been a village tradition going back many years. It was all about home crafts and country traditions. Some of the locals still did crocheting so that was one of  stalls that was set up. Another was yarn spinning where local wool from the sheep was spun into yarn. Home grown vegetables were another while wheat and barley were  put in a press to be crushed and made in to flour for bread. Farmers brought their sheep down from the hills and did shearing demonstrations.
One of the reasons we at Taste the Cracklin were asked to come along and do the catering was because we could do a spit roast pig and the fate wanted traditional food rather than the average burger and chips. Our hog roast machines allows everyone view the pig as it cooks on the spit. This is what the organisers were hoping for. We prepared the pig ready for the machine before we arrived (we don't like to give too many secrets away on how to season etc). As the pig can take anything from 4 to 6 hours to cook depending on the size we arrived early to set things up and start cooking. It doesn't take too long before lovely aromas from the meat start coming from the machine. This is when people start flocking around asking how long it will be before they can taste it.
Unfortunately it's usually still a couple of hours before that can happen but it gives us plenty of time to prepare all the fresh salads and sauces we use to accompany the meat. Crackling is always a favourite with people at the venues we go to and when we use our secret ingredients on the pig it gives the cracklings that extra special flavour. As usual the food was a big hit with everyone and the day went very well and they already want to taste another Taste the Cracklin pig at next year's event!