Hog Roast Boothorpe were delighted to be asked to cater at a recruitment event for a large blue-chip engineering organisation for approximately 200 guests in the grounds of a large stately home.  The organisation is the main employer in this area and holds this event annually to attract local talent including school leavers, as part of their recruitment and apprenticeship strategy.  It was clear that an event of this nature would likely be quite informal and relaxed as it was aimed at young people – we discussed which menu was most appropriate and with six to choose from for this type of event, the client wanted the standard "Hog in a Roll" service.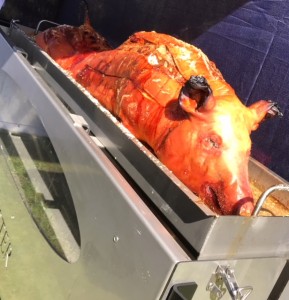 Hog Roast Boothorpe has catered for this organisation a few times before and they have been so impressed with our quality of food and service that we have regularly received repeat business from them with recommendations to some of their stakeholders including directors and subcontractors; it is essential for any catering company to ensure that the high quality is sustained and consistent as there are many good catering organisations out there, we like to think that what makes Hog Roast Boothorpe stand out and be great, is the consistently excellent food and service that we provide.
We liaised closely with the organisers as the serving times would be variable and intermittent through the day with two servings planned; one at lunchtime and one in the late afternoon with roughly 100 guests for each serving.  We needed to be flexible with timings as the guests would be introduced to the organisation by key staff members and light-hearted presentations with a question and answer session shortly after.  Once this had been completed, we would need to serve but we knew that for this type of event, things can have a tendency to slightly over-run.  We arrived late morning to set up with plenty of time available and feedback form the hog roast was extremely positive as we expected with staff and guests commenting how delicious the hog roast tasted with many coming back for seconds.