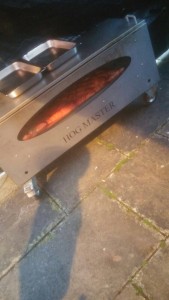 A chilly, wet, very early morning in June and we were off to a local community centre to provide the catering for an information day. Some people don't know that they have access to important places such as community centers, or don't know what they can use them for, so an information day is a great way to clear this up. We were asked to cook our extremely popular hog roast in Darrington for people to enjoy on rolls while they were learning more about the great things that the centre does. There would be more food available on-site, but ours is always a favourite with hungry crowds.
As we erected our gazebo, other local caterers started to arrive to assemble their stalls. We got talking to several people from various businesses who all agreed that they too could benefit from our hog and spit roast services for their own events – some for corporate get-togethers and others for their own parties at home. We always love to network and meet new people on our travels, especially when it means new business.
We set up our top-of-the-range roasting machine and prepared the large pig in front of an interested crowd. We're always asked lots of questions and today was no different – and this was even at 4am before any members of the public had arrived for the information day. One of the most-asked questions has to be if it is actually easy to do a DIY hog roast, and on this day I told the crowd to watch just how simple it can be, even with a large pig and a large machine. Some of them couldn't believe how easy it was and several people vowed that they would rent a machine from us very soon.
Our locally-sourced pig had been cooking for several hours and was now nice and juicy, and then it was finally time for the community centre to open its doors. The damp weather didn't deter anyone from attending, as it remained busy throughout the day. We served customer after customer and by early afternoon the hog roast Darrington had been stripped clean. We had a great time networking and introducing people to the art of hog roasting and it seemed that the community centre had lots of interest, too, so it was a successful day for many.