It's wonderful weather for a back garden barbecue right now, so why not have one with a difference this summer and enjoy one of our delicious hog roasts? We can cater for just about any kind of party that you can think of. Just yesterday we provided the food for a graduation party with a Hog Roast in Cheadle! We soaked up some sun and had a great time serving Charlotte and a garden full of students (or ex students, we should say) as well as her friends and family. Organised by her parents, the party was booked for us to cater with a simple hog roast and some trimmings, so that's a nice, fat pig, lots of fresh bread rolls, stuffing and apple sauce and some side salads.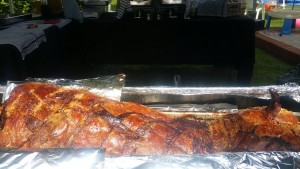 We arrived at the party yesterday late morning for an afternoon service (as you know, students tend to get up later in the day!) and set up our gazebo in Charlotte's parents' back garden. We laid out our serving table with everything we needed and prepared the hog ready to be cooked. This meant scoring the pig all over, in diagonal shapes, then covering it in water and salting it to make the crackling. We turned our hog roast machine on and let the pig cook slowly for a few hours.

As the guests started to arrive, the meat was now juicy and tender and just sitting in its own juices, bubbling away, waiting to be carved. We always prepare salads and rolls on the day, at your venue, so that's everything is all fresh, and that was the next step. We'd brought along fresh green leaves, carrot and orange salad and coleslaw, so got to work on those as the garden started to fill up with people excitedly talking about the delicious smells around them.
It was soon time to get the yummy crackling off the roasted pig, and this drew a crowd to the gazebo. As a chef, I love to put on a good show with the carving and the guests were certainly impressed, but not as impressed as when they tried the meat itself, which just fell off the bone and melted in their mouths .