This week we returned to the home of a client for a party with a whopping 200 guests in a busy exclusive area of Wimbledon, home of one of the world's most prolific tennis competitions. The house and the surrounding area was clearly cared for and maintained and was a beautiful home for the young family. During planning the hosts opted for our third private party menu option, which we receive many requests for and always goes down a treat.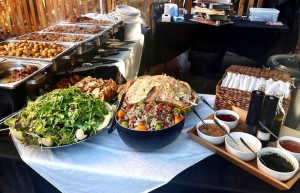 As a result on the day we had to bring plenty of supplies to cater for all and prepared our renowned succulent spit roasted hog in Wimbledon with accompanying crackling and stuffing as well as apple sauce, both handmade. We also brought roasted pork that we'd marinaded overnight ready to be slowly roasted without any extra preparation, the aroma due to the extra flavour from previous preparation was sensational! We also provided our chefs gourmet sausage, various homemade sauces, fresh bread and salads, potatoes with herby butter, and a vegetarian stir fry to make sure everyone could have the experience we'd prepared. Due to the large guest count, we'd brought masses of supplies with us and our caterers had their work cut out getting enough prepared on time in such bulk but alas with their expertise, hard work and dedication, they were ready with a hog roast in Wimbledonfor the agreed serving time.
We arrived at around midday due to the planned 8pm serving time, due to the size of the hog we'd brought with us we had to allow for plenty of time to cook thoroughly and to perfection. As we arrived we set up our two gazebos in the shining sun in the family's garden. One gazebo was for us to prepare the food and the other for serving our food in a buffet style. The second gazebo was decorated to improve the experience for our guests and to make our already mouth watering and taste bud tingling food that bit more appealing. As we served the chef carved into the meat and steadily the guests helped themselves as they pleased, one and all loved the meal and came back to help themselves to more while it was still available. Another successful day for the team!