A highly important part of any event or party planning is finding the right caterers, who need to be reliable and professional and provide you and your guests with tasty, high-quality food. When those caterers also offer affordable culinary options too, you've hit the jackpot – and as it happens, Hog Roast Carterton are all of the above and more!
When it comes to providing the food for a large number of people at a wedding reception, corporate function or suchlike, a whole roasted hog gives you a lot of meat, which is why it can be such a cheap way of feeding your guests, while it will still appear luxurious. However, even if you're having a smaller affair, we have many options for different budgets, and you can still save money as well as time and energy by having Hog Roast Carterton provide the food.
When Paula booked us for an intimate party in her back garden at home, it was to celebrate her 50th birthday with a few close friends. Having heard about us from a friend, Paula decided to take the plunge and hire caterers for the first time. She asked us for our popular Private Party Menu 1, which is slow-roasted hog served in your choice of a bread roll – or pigs in buns, as we say. We often serve this in fresh, floury bread rolls, but Paula asked us to provide wraps on this occasion instead.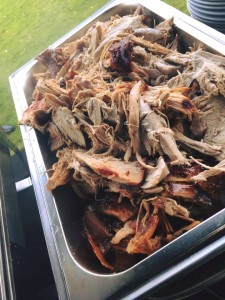 On the day of the party, I arrived at Paula's home to cater the special occasion by myself. I'd brought along one of our trusty hog roast machines to set up underneath our gazebo, a serving table, a small hog and all the 'fixings' needed to make Paula's birthday meal a success. To make pigs in buns, your chef needs to prepare the meat at your venue hours before service, so in this case, I arrived in the morning as I would be serving the food early afternoon and I got to work on the meat before watching it sizzle away.
Some hours later and Paula's guests had arrived to the most wondrous smells of a slowly-roasted hog roast Carterton that was resting and it was time for me to cram bits of meat and crackling inside the wraps and top with apple sauce and stuffing – both homemade. Paula clearly loved her special birthday treat, and so did her guests.