At Hog Roast Aldcliffe, we love adding a bit of spice to annual traditions by providing an alternative dining experience that still fits in with the spirit of the event. This was certainly true this bank holiday weekend when we were asked by Richard and Elaine, the ringleaders of a 20-strong local hiking group, to put on a hog roast buffet for the weary walkers after completing their traditional bank holiday hike. They usually ended the day with a meal in a pub at the finish line, but this year, whilst they didn't want to deviate from their usual route, they wanted to do something a bit different food-wise that would be a nice surprise for the rest of the gang.
Nice surprises, along with our unbeatable hog roasts of course, is what Hog Roast Aldcliffe does best! The couple chose a buffet style party menu with a traditional hog roast that would guarantee to satisfy the group after a long day on their feet. They were also pleasantly surprised by our tempting and imaginative range of vegetable and salad options for the non-meat-eaters amongst them. Happy that everyone would be well-fed, we arranged the time and place with Richard and Elaine and off they went to brush the mud off their walking boots.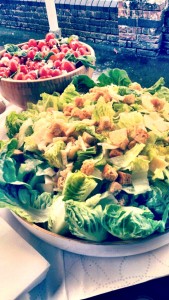 Whilst the hikers were spending the day working up an appetite on the fells, our chef and catering assistant spent the day ensuring their bellies would be filled at the end of it. As the group were negotiating their way up narrow paths and wading through streams, completely unaware of the treat that awaited them, the meat was cooking slowly throughout the day, to ensure maximum succulence and depth of flavour. Meanwhile, the Hog Roast Aldcliffe chef's very able assistant was busy preparing a variety of fresh salads and vegetable dishes from scratch.
The tired trekkers couldn't believe their eyes when they arrived and saw the scrumptious surprise that awaited them, especially as they had been expecting their usual run of the mill pub lunch! The carnivores and vegetarians alike tucked in with equal gusto, pausing only occasionally to compliment us on the food and Richard and Elaine on their decision to think outside the box when it came to the catering. In fact, they made a unanimous decision to make one of our hog roasts a new tradition to mark the end of their annual amble, so we look forward to seeing you all again next year!