It was a Saturday night at Hanham community centre, in Bristol and Jill had booked Hog Roast Bristol to cater for her parents anniversary. The community centre is a lovely place to hold such an event, being on the high street means it's easy access for people to get too.
Jill had invited all the family and friends, past and present, for her parents. It was to be a great celebration for her parents to enjoy with friends that they hadn't seen for many years. Balloons and banners decorated the hall and messages of congratulations we're placed all around the room that guests had pre-written for Jill's parents. It was a lovely thought that Jill had and her parents were very pleasantly surprised at how well guests thought of them. There was a lovely atmosphere with music from Jill's parent's era playing in the background.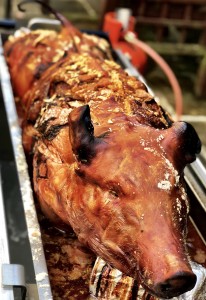 We at Hog Roast Bristol arrived early afternoon to start cooking the pig on our Hogmaster. Jill thought that a Hog Roast Bristol with perfect crispy crackling, apple sauce and stuffing would be the ideal meal for the guests. She also choose three freshly prepared salads with new potatoes in herb butter. A choice of two desserts were chosen for anyone who still had room after a hearty meal. We prepare all the food fresh at the event and offer a table service by our catering staff if guests prefer a sit down meal. We had brought the disposable crockery and the tableware was chosen by Jill to match the colours of the balloons and banners. We also assured Jill that all clearing away and rubbish would be removed by our catering staff, which was a pleasant surprise for her, meaning she had nothing to worry about when the party had finished. The party was a great success with lots of lovely comments about the food and how helpful and polite our catering staff had been.
All the guests had enjoyed the food and nobody was left hungry. We at Hog Roast Bristol were delighted that all of the guests had a lovely evening and were very pleased at how well the evening went. We pride ourselves on making every event a total success!