The weather may be turning chillier now but we're still a popular choice for outside catering at this time of year – in fact, we often do hog roasts Castleford in the winter, too! If you have a wintry party to plan, such as a Christmas work do, you could enjoy a hog or spit roast outdoors – perhaps by a warm fire – but it may be handy to know that we can also cook them indoors too, as long as there's enough space and ventilation. If the wind is howling and it's pouring down, we can put up a marquee, and cooking a pig inside a tent makes the aromas even more amazing. For Eileen's 50th birthday party that we catered over the weekend, the day started off fairly mild, but as time went on, the wind grew stronger and the rain drenched the back garden. We had already checked the weather report in advance, so we were expecting bad weather, which meant we had gone prepared with one of our marquees. Putting Eileen's mind at ease, and letting her know just how wonderful the meat smells in such an enclosed space, we erected the marquee tent and got to work preparing the hog. We score the outside of the pig first and to make sure the meat doesn't dry out, we cover it in water all over, then add plenty of salt to the skin so that we get lots of that magnificent crackling.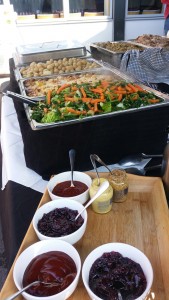 As well as providing the hog roast rolls, Eileen asked us to bring along an avocado and cherry tomato salad and a new potato salad for her guests. We make everything fresh on the day and our customers can tell – there's such a huge difference in taste, whether it's the meat itself, slow-cooked and then sliced right in front of you, or the extras that we can supply, like salads and potatoes, and right down to the bread rolls and sauces. Everything is high quality and as fresh as possible.
While we served Eileen's guests, as the rain lashed down, we had compliment after compliment about just that – the quality and freshness – but most of all, the comment of the day was that the hog roast Castleford food was simply fantastic, and nothing else could make a chef like me happier.