Hog roasts and wedding bells always go particularly well together and the same has to be said for when we were asked to cater for a beautiful couples wedding in Matlock last week. Adam and Lyndsey were getting married in a lovely stately home in the rural countryside, surrounded by sprawling green fields topped with pleasant October frost. Autumn is becoming a popular wedding season and ourselves at Hog Roast Matlock have certainly seen an increased in the number of couples choosing this delightful time of the year to spend one of the most important days of their lives.
At Hog Roast Matlock we have a range of different catering menus to suit a vast array of different needs – from laid back buffet style hog roasts to more formal affairs with the luxury of table service and canapes. We cater for both wedding breakfasts and wedding evenings depending on the needs of the couple, but for this particular wedding, Adam and Lyndsey had chosen us to be their main caterer and to provide their first meal together as husband and wife. For such a special occasion, they had chosen one of our most formal menu.
After the ceremony, we welcomed the wedding guests into the venue with a delightful array of canapes to tie them over to the main event and allow them to satisfy their hunger all the while mingling and celebrating with family and friends. The couple had chosen four of our delicious homemade canapes including steamed Chinese inspired dim sum, delectable Malaysian chicken satay skewers, fresh and doughy mini pizzas and scrumptious fillet of beef inside comforting yorkshire puddings.
When it was time for the main event, we served spit roasted free range pork, slow roasted for several hours with fantastic crackling and ethically sourced, beautifully succulent spring lamb with plenty of fresh rosemary. Guests had the choice of freshly made salads, golden roasted new potatoes and seasonal vegetables to accompany their meats and create the perfect, tasty and filling main course.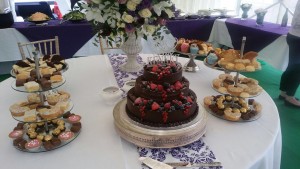 And finally, for dessert as per wedding tradition we served the lovely couples beautiful wedding on china plates, with a delightful berry coulis and fresh cream. What a fantastic day, with fantastic food to see the guests into the evening celebrations filled with laughter, dancing and memories. Congratulations to the couple from all of us here at Hog Roast Matlock.