When you're planning a corporate hospitality event, it can often be difficult enough to co-ordinate everything even without the added stress of taking care of the food, too. If you can hand over the catering reins to a team of dedicated professionals who truly care about their product, you can easily get to enjoy more of your event and, of course, manage to spend more time with your guests as an added bonus. That's why we're so popular with local and national companies when it comes to providing succulent hog roasts and spit roasts for work events, and why we get lots of repeat business, as we're trusted to deliver an excellent product time and time again.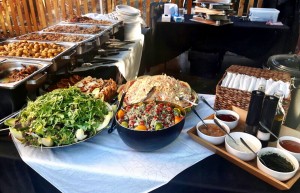 One of our regular business customers, Brian, asked us to bring along our winter warmer hog roast in Moffat for his most recent work party. This menu includes delicious slices of slow-cooked pork and golden crackling, as well as a selection of vegetables and salad of your choice. We roast the locally-sourced hog on the day of your event actually at your venue, so that it's as fresh as possible, and prepare and cook all the veg, stuffing and sauces there, too. Now that the colder weather is upon us, we get lots of requests for this menu, especially for outdoor events. Nothing can be better at warming you up in the chilly air than a nice big plate of steaming hot meat and veg.
Brian requested cabbage, carrotts and turnips to go with his hog roast Moffat, and with around 50 guests expected at yesterday's event, our team set off bright and early so that we could slowly roast the pork for several hours. When we arrived at Brian's business premises, he was waiting to let us into the grounds, where we set up the gazebo, serving station and hog roast machine.
Once the pig had been cooked to perfection, it was then time for the employees and clients to arrive for a great feast. We served lots of hungry guests plenty of lovely food, and once they'd all had their fill (some returning for thirds or fourths), Brian summoned them all inside for an evening of party games and entertainment.