The weather stayed lovely today for a 60th birthday party that we catered for at a local hotel with a hog roast in Solihull. While we are actually able to cook indoor in a well-ventilated space if needed, this hog roast was a stunning centrepiece in the gardens of the hotel – a sight to behold that filled the air with such wonderful aromas and had plenty of guests asking us if it was nearly ready yet throughout the day.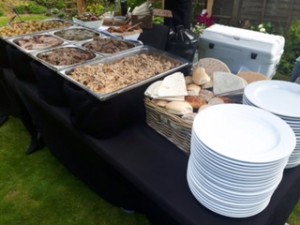 Joseph's birthday party was a fairly informal affair, with 50 guests to feed our hog roast rolls and an array of fresh salad dishes and garlic-roasted new      potatoes. We would also serve a lovely homemade vegetable tart to a couple of vegetarian guests. For the carnivores, the hog roast Solihull and crackling  is stuffed into fresh, floury bread rolls, together with our own apple sauce and stuffing, and then topped off with a choice of condiments if preferred.
We arrived at lunchtime to slow-roast the hog for several hours before the serve time of 5pm. We'd brought with us our trusty hog roast machine (one of  our own, which we manufacture here in the UK), a gazebo and serving station, as well as the medium-sized pig. We source the meat locally from our  trusted suppliers, which always guarantees quality, fresh food for your event. Setting up the gazebo and service station is nice and easy and doesn't take  too long, and then it was time to prepare the hog  roast Solihull itself. Once done, we could take it easy for a while and just keep an eye on it.
A few hours later and the now-gorgeous meat was resting while we got on with prepping the salad leaves and coleslaw, slicing the cooked veggie tart and  bread rolls and dishing up the potatoes and sauces. When it was time to start cutting off the crackling and slicing into the meat, there were plenty of oohs and ahhs and lots of guests started to gather round and get into a queue. Joseph was pushed to the front of the queue by his family (which we're sure he didn't mind!) and he didn't stop complimenting us on the fantastic food for the rest of the evening.