I have to say, as a chef, I do love a fancy wedding, and on Saturday I got to cater a wonderfully stylish wedding reception with our famous hog roast in Glazebury. Laurian and Julian booked us last year, to ensure that their summer wedding this year would feature our renowned catering services. August is an extremely popular month for both weddings and hog roasts, so it was excellent planning by them at the time.
T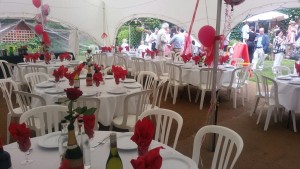 he lovely couple asked us to provide our Wedding Menu Option 6, with a couple of tweaks. As we have been in the business for many years now, we know just how important this day is to a bride and groom-to-be and so with that in mind, we're always flexible. If you want to create your own bespoke menu for your wedding reception or if you want to request additional items, we can help you with this and will do our utmost to make your day how you want it with regards the food.
Laurian and Julian chose six canapés for their menu, which would be served to the guests with drinks as they arrived. These included mini pizzas and mini burgers (as requested by their 6-year-old daughter Maisie!) and halloumi kebabs for the vegetarian guests, as well as pâte, chicken satay and tiger prawns. For the starter served to the seated guests, they wanted our smoked salmon with prawns and avocado but with creamy horseradish rather than our usual dressing of mustard and dill, and a vegetarian option of crolines, which we are rarely asked for. For the main course, they ordered our super-tasty pigs in buns with apple sauce and stuffing, while the vegetarians would be served a lovely homemade vegetable tart.
We also provided seasonal vegetables and fresh salads for this wedding reception, and dessert was our very summery strawberry and passion fruit cream meringue and summer pudding served to the tables. This was followed by the couple's wedding cake and then tea, coffee and mints.
The beautiful wedding reception was full of happy guests celebrating the marriage of two people clearly in love. We discreetly cleared away as they were led to the dance floor to take their first dance as man and wife. A spectacular hog roast in Glazebury!