At Hog Roast Wisbech, whether we are catering for a small private party or a large-scale wedding, we always offer the finest food and services. Early this year, we were contacted by Yvonne and John to cater for their wedding. With over 70 guests attending, we were ready to make a master buffet.
One of our chef's, an assistant and myself were assigned to work on this job. We got to the venue early and in good time to prepare and present the food to a professional standard. As soon as we were given a place set up, we got straight on with preparing the food.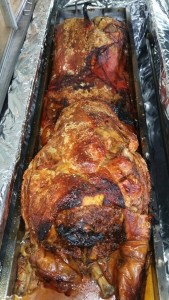 The request was a large Hog Roast Wisbech, complimented by several trays of our famous herb potatoes, a delicious selection of sauces and our finest fresh salads. The venue was at a high-end hotel, with a huge garden, which was where the marquee was set up for Yvonne and John's after party. When the guests started to, they were instantly drawn to the array of colours that spread across the buffet, lighting up the area. Addicted to the mouth-watering smells, everyone wanted to dig in straight away. Not even five minutes after everyone began to eat their food, there were flows of compliments about the succulent meat which melted on the tongue and the other selection of foods that complimented the meat tremendously. Smiles of joy and tummies filled made the atmosphere extremely relaxed and enjoyable.
When the food had been devoured, it was time for us to pack up our equipment and clean the area, something Hog Roast Wisbech always do, so our customers can host the rest of their events in a clean and stress free environment. There was some meat left over, so we packed it away and gave it to Yvonne and John to enjoy for another day or two, they both thanked us massively and assured us that they would be hiring us again and spreading the word about the finest food and wonderful service that Hog Roast Wisbech offers.