You wouldn't think that spring was just around the corner when looking out of the window at the moment, but that doesn't stop a hog roast in Keighley going ahead!
Last week we attended an event for Tim and Alex, twin brothers who opted to have their 30th party at their family house in Keighley. In the planning stages Alex did take control as Tim is very laid back, they do always says that twins can sometimes have opposite personalities, this was definitely the case!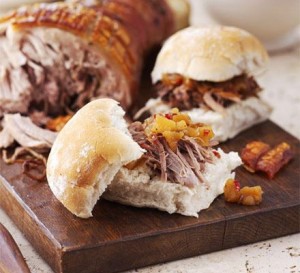 They opted to have the traditional pig in a bun menu choice with some additional side dishes of new potatoes, spicy wedges and chose sausages for the kids! We provided all of the sauces and accompaniments, and with a few gluten free guests we made sure we had a selection of gluten free bread rolls and wraps available.
We began prep on our salads and sides 1hr 30mins before service as the pig had been cooking for a few hours prior. Tim and Alex had 60 guests attending and 10 children, but we made extra sausages as sometimes the adults do love to opt for a hot dog also! As the hog roast machine can fit through most doors we cooked in the kitchen while the guests mingled in the living and dining rooms. In the kitchen they had a lovely island in the centre that we used for all of our condiments and laid out the buffet ready for service at 8.45pm. By this point many of the guests were very merry and very hungry! The food went down very well with all of the guests, especially the hot dogs with the kids! The spicy wedges were very popular at this event, and many guests want to know the recipe for our home made seasoning on them! We can't give away all of our trade secrets!
We had cleared up the full kitchen to look just as it did when we arrived, no left overs to leave this time! As we were leaving all of the guests, and Tim and Alex looked like they were having a great time singing and dancing, sometimes we are tempted to join in!