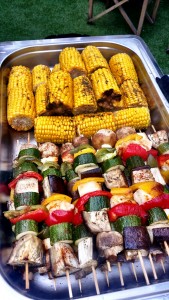 It was the weekly auction market for farmers, but this week was going to be different. It was going to be Barry the auctioneer's last market before he retired. The organisers of the weekly farmer's auction wanted it to be a special occasion for Barry who had been the auctioneer for the last 48 years. He was well known by farmers old and new and everyone wanted him to have a day to remember.
It was decided that a pint and a sandwich was the best idea and this is when we at Taste The Cracklin were asked to get involved and do the catering. We were more than happy to do any sort of catering that was needed. As they were a bit unsure of numbers to cater for they just opted for a large spit roast pig. As it was a farmer's auction we were told to keep it simple as they tend not to like a fuss. Farmers don't do fuss and frill. We at Taste The Cracklin can do any sort of catering. Frilly and fussy or as simple as you want. We are just happy to please.
A large pig was chosen as the meat for the sandwiches. A slow spit roasted pig cooked for around 8 hours would soon send fantastic aromas around the auction attracting farmers to come over and enjoy a pint and a sandwich with Barry on his final day. We wanted today to be special as well because we at Taste The Cracklin also knew Barry. Barry had been a guest at one of our previous functions and commented on our pork cracking so we wanted this to be our contribution by making extra special cracking today. We used our secret recipes as usual but with a bit of a twist to get a special crackling. Barry noticed what we had done for him and thanked us personally as it's not often he gets crackling. We made a simple salad to accompany the sandwiches but still did our fantastic homemade sage & onion stuffing and applesauce for that touch of sweetness. Large floured rolls and wraps were fresh from the bakery early that morning.
Everyone had turned up especially to thank Barry for his service and wish him the best for the future. Barry saw his last day as his best and thanked everyone for their involvement in making it extra special.