Whether you are a seasoned outdoor entertainer, or this is your first foray into al fresco fiestas, you need reliable, creative and flexible outdoor event caterers to support you and help to make your event go off with a bang.
Hog roasts are a popular choice for many forms of outdoor entertaining and if this is the option you choose, you need to get it from the best. We are one of the most established mobile event catering companies in the local area and we supply unbeatable gourmet hog roast menus for all types of outdoor events.
Here are just a few reasons why Hog Roast Penrith should be your number one choice for all your outdoor event catering needs:
A showstopping signature dish combined with varied menus
A fantastic focal point, our perfectly cooked hog roasts offer a bit of theatre and a lot of flavoursome food for any number of guests. We prepare our hogs onsite in full view of our diners, along with the rest of our dishes too. We boast a varied repertoire of catering menus, including different meats, more formal fine dining menus, BBQ fare, themed menus, festive meals, and vegetarian and vegan food. All our food is freshly made at the venue using the best seasonal ingredients and locally sourced produce. We will offer you a totally bespoke menu and a unique dining experience for your event.
Freshly made food in any setting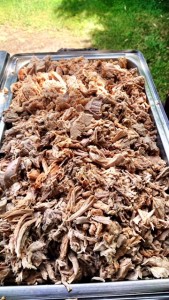 Hog Roast Penrith can cater in just about any outdoor location, from remote rural settings to busy town squares. We can cater in the open air, in a marquee or under our own specially made catering gazebos. We are fully mobile in all aspects of our catering services, which means we don't need there to be any kitchen facilities on site whatsoever. Our machines are also gas powered, removing the need for main power to be present on site too.
Full flexible mobile catering solutions at any time of year
We aren't just a summer catering phenomenon. Our incredibly flexible approach, durable catering equipment and adaptable team enable us to cater inn all weathers and all seasons. From summer weddings to Christmas markets, if you want great outdoor food, Hog Roast Penrith can always be there for any occasion.